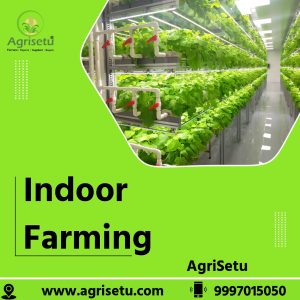 FUTURE OF FOOD PRODUCTION IN INDOOR FARMING
CONCEPT:
The simplest possible explanation is that indoor farming is farming done inside of a building. It does not require large equipment like tractors or combines, and often uses less water than growing outdoors. Instead, it relies on other types of technology – like cameras and software.
The process of growing products on a big or short scale completely indoors. With the help of artificial lights and the hydroponics system, it is well-known as indoor farming. The manufactured light is required to supply the plant with nutrients that are also donated to plants maturing as they would get outdoors.
Most typically fruits and vegetables are farmed in the farming system. However, other types of plants are also farmed with the use of the same method. This farming is popular in those areas where it is tough to find land for farming goals.
Indoor farming is used as commercial farming for the cultivation of fruits and vegetables to provide for the regions. It requires less area and less time for growing the plants and crops.
TYPES OF INDOOR FARMING
Vertical farming
Greenhouse farming
Controlled Environment Agriculture (CEA)
Urban farming
BENIFITS OF INDOOR FARMING:
Indoor farming has many advantages over traditional farming practices.
1. LESS LAND USAGE
As mentioned previously, a vertical farm can grow a lot more plants on a given area of land than a single outdoor field. In densely populated regions where there may not be much arid land for agriculture, this can be extremely helpful.
2. URBAN AGRICULTURE
Indoor farms do not require a lot of open space to operate, especially vertical farms. Unused buildings in urban areas can use for vertical farming.
3. REDUCING CARBON EMISSION IN TRANCEPORTION
The popularity of indoor farming can help reduce these emissions and food waste. Growers can build indoor farming facilities practically anywhere, thus supplying their immediate communities with year-round access to fresh produce that will last longer on the shelf and greatly reduce the pollution created to get it there.
4. HEALTHIER AND FRESH CROPS
Being able to optimize everything about a plant's growing cycle, from the amount of nutrients they get to the amount of light they receive, means farmers can grow healthier and fresh crops.
5. YEAR ROUND YIELDS
Unhampered by weather, indoor farms can grow food 365 days per year. Growing indoors means operating within a food system that's not at the effected to climate change.
6. SAVING IN WATER
This is one of the main advantages of an indoor system. This hydroponic system requires only 10% of water to grow crops in the vertical indoor farming method.
7.SUITABLE TO THE ENVIRONMENTALLY FRIENDLY
Crops grown indoors do not require pesticides or herbicides, traditionally are grown with less water, and they don't cause fertilizer runoff, which can be detrimental to the local environment. It is true that indoor farming is energy intensive, but many indoor farming operations offset this high use of energy by taking steps to use as much renewable energy as possible.
WHY INDOOR FARMING IS FUTURE OF THE FOOD?
Indoor farming maximizes natural resources for the greatest crop production, quality, and availability. It also improves food equity. Healthy food choices become more accessible and affordable when healthier foods are less expensive to grow and supply chains reach historically underserved communities.
DISADVANTAGE OF VERTICAL FARMING:
Experts required
High investment cost
High power consumption
High running costs
High maintenance
Profitable only for a handful of plants
Technological failures could lead to major problems
People in rural regions could lose their livelihoods